How To: Checkout Walkthrough
How To: Checkout Walkthrough
We've had a few questions on the checkout process, so we created a walkthrough so you know the steps and are familiar with the forms ahead of time. If this doesn't answer your questions, or you are having issues registering your account, please contact the site administrator.
Stepping Through the Sign Up Process
We've had a few questions on the online joining process. While this is a long email due to the screen shots, this email will walk you through the process and let you know what to expect. There are five steps:
Step 1: Select Join
From any page select Join from the main menu.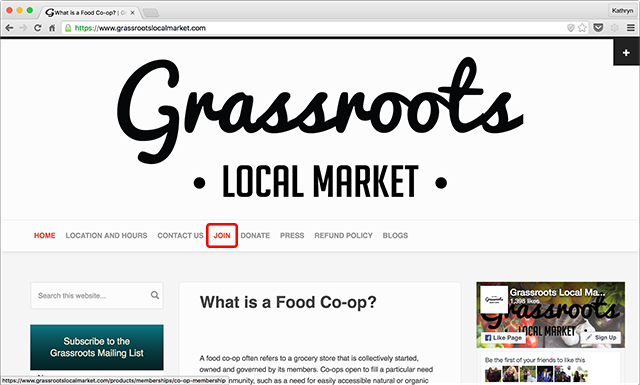 ---
Step 2: Select Your Preference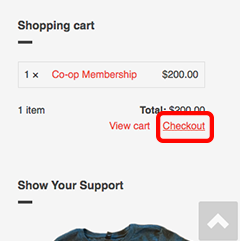 ***We've changed this since this walkthrough was created***
You can opt to either pay the membership fee in one lump sum or spread it into installments ($50 in the initial payment, $30 for the next five months) by selecting the appropriate option from the "Join" drop down menu. On the page of the membership payment plan you selected review the offering details, then "add to cart". Once you "add to cart" you will immediately start the checkout process, so your next step will be to either log in or create an account.
If you want to continue shopping to perhaps get one of our awesome t-shirts, you can do that, too, and then choose to checkout using the link below your "shopping cart" on the right column.
---
Step 3: Log In or Create a User Account
If you have ordered a membership from us in the past you have an account already. You can put in your email or your user ID. If you don't remember your password, request a new password by following the "Request new password" link.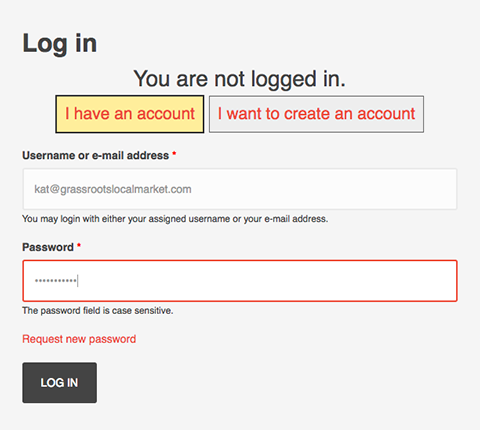 Step 3b: Create an Account
If you haven't ever purchased from us, select the "I want to create an account" link and enter your information. By doing this we have your membership associated with your account. If this is a gift membership, log in with your account information. There will be a place for you to let us know about the gift membership on the next screen.

---
Step 4: Begin the Checkout Process
After you've either created your account (or logged in) you will begin the checkout process. The Checkout screen has somewhat typical elements with a few additional items.
Terms: After reviewing your cart (you can edit it using the Edit Shopping Cart link) you need to read/understand and agree to the terms.
Donate: While on this screen, you can also choose to make an additional donation to Grassroots if you'd like.
The screen will have brought forward the address you put in when you registered (you can change it here if you need to) as well as your shopping cart. If your credit card is not billed to your address you will need to change your billing address by unchecking the "Billing Information" box and entering in your current billing address.
Please note: because we can only sell memberships to VA residents, the system verifies your eligibility against your credit card address. If you are a resident of VA, but your credit card has a different address, please contact us and we will work with you to process the card.
Gift: If this is a gift membership check that box and provide email, name, phone and address for the person or organization that will receive the gift membership. They must also be a VA resident or entity and will need to read and understand the terms.
Comments and referral: If you bought a t-shirt put that information in the comments, and if someone referred you let us know so we can thank them!

Step 4a: If You Donated
If you donated to the effort this screen will refresh when you select "continue". After reviewing the refreshed screen continue to the next step where you can review the submitted information as a whole and enter your payment information.
---
Step 5: Review and Enter Payment
In this next to last step review the items in your cart (this is the last time you can edit the cart), review the addresses you have given and the terms one more time and then enter your payment information. We are currently set up to take MasterCard and Visa and hope to accept checks online soon.

"Continue to next step" submits your payment with a possible final review if there are any issues, but you're pretty much done! You should get a confirmation email from our site as well as a receipt soon thereafter.
Welcome and thank you for joining the Co-op!